Those that knew Richmond might remember the Black and Yellow chequered International Scouts 4WDs that the Air Traffickers used back around 1974/75, their call-signs were Scout 1 and Scout 2.
The Air Traffickers carried out regular runway checks during the day; apparently one of these checks had just been completed when I heard this radio exchange:
"Tower, Tower,
Scout, Scout,
A runway check has been carried out,
To your delight, and mine too,
The surface is good
Through and through."
On another occasion, while waiting to cross the runway to the QuadRADAR Site to fix a fault we had the following exchange:
Quad Combi: Richmond Ground, Quad Combi, clearance to cross the active to Quad Site.
Richmond Ground: Quad Combi, hold.
Richmond Ground: Scout, Ground, ......and a ham and salad roll , two pies, a bucket of chips ……etc
Scout: Roger that.
Richmond Ground: Quad Combi cross the active.
This was just after the Air Traffickers had given me a bollicking about improper use of the radio. I guess you gotta get your priorities right.
Then there was the Air Trafficker who U/S'd the whole Tower time system because it didn't say the same time as the U-beaut Seiko watch that he'd just brought back from Singapore. We had to rip the Master Clock unit out and send it back to RACAL for calibration. Meanwhile the Air Traffickers had to "manually" record the time every now and again to get a "time stamp" on the tapes. Presumably they were using their Seiko watches to get the time.
Watching M.A.S.H the other night RADAR O'Reilly said to Hawkeye Pierce
"Sometimes I wish I could be like all the other guys. You know, go out, get drunk, tell lies to strange women, then come home, go to work without any sleep and throw up all day".
That too brought back a few memories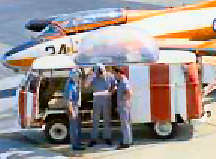 Bob Dorsett also saw the story, he says, I have not seen this configuration, but in 1976/77 114 had a Kombi, Yellow and White with a VW powered generator on a trailer. The vehicle was called a SOTS Vehicle (Strip Operations ***) It was a mobile Control Tower. Two seats and entry was from a sliding door on the passenger side. You would duck in and climb onto swivel chairs set around 1.5m off the deck. The drivers side had a pair of batwing doors, that opened onto equipment bays with mute amps (what's a mute amp?? – tb) and radios etc at floor level up for on third the width of vehicle. The trailer had a pair of fiber-glass boxes with removable lids and stake down points. A spool of 3/4 inch steel wound cable ended into a plug that could plug into the wing root of a mirage. The other end came back to SOTS. It had a Telephony IDF we used to run 10 or 20 pair to pre-terms around different locations on Amberley hardstand. The pre-terms went back to 114 MCRU.
The Kombi was not a bubble config like shown. It had a roof larger than the cut out in the roof and inward sloping flat windows. The passenger seat was replaced by a 50V set of 2C NiCad batteries. It seated two people in the "Tower" on swivel chairs at a tower console.
It was a mongrel to set up for use as the Mute amps always needed rebalancing. Tom McIntyre and Bob Crawford also worked on hem, in their Corporal days.
Mick Ryan also saw the story we had on the "Barber poled" Combis in our last edition, he says:
"The Red and White 'candy striped' Volkswagens were known to a lot of us ex Groundies from Pearce as an LAMV (Landing Approach Monitoring Vehicle). They were positioned by the 'Duty Tech's' mostly at night during Night Flying at the end of the active runway for the Duty Pilot Instructor to monitor cadet Pilot 'Touch and Goes'.
Under the perspex dome were two swivel chairs, a couple of PRC-41 UHF Transceivers, and Intercom to the Control Tower connected by an umbilical cord to a junction box on a bitumen pad near the piano keys.
On a dark night in 1972, as an AC Duty Tech in training, I was with a CPL Norton when we were requested by the Control Tower at 2000hrs to site the LAMV at site 18. There were approx 20 Macchis in circuit so the night was full of Runway, Taxi, and Aircraft lights and noise. We had to fire up a PRC-41 to the Surface Movement Control Frequency and request clearance from the Control Tower to cross Runway 05 to get the LAMV to site 18. The Tower came back barely readable with something like "ShpeerXXmission". CPL Norton asked me if it sounded like "permission" and I agreed. So we crossed the runway only to find there was a Macchi on Finals which had to overshoot. Needless to say we were in trouble.
We got the dreaded flashing White light from the tower (Report directly to the Tower) after flying had ceased and were severely briefed by the Senior Air Traffic Controller and told to study the AAP on Radio Operational Procedures. Some things you never forget and this is one. Radio voice procedures never use the word "PERMISSION" but do use "HOLD POSITION".