Radschool Association Magazine - Vol 32
Page 20
Privacy Policy | Editorial Policy | Join the Association | List of Members | Contact us | Index | Links | Print this page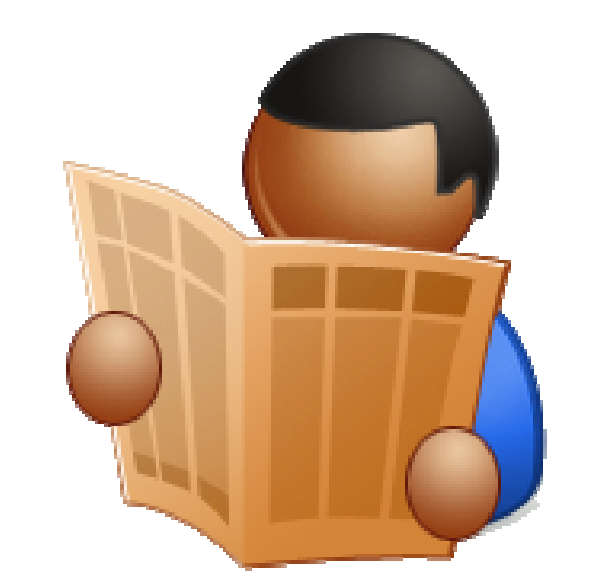 News and Reunions!
F111 Farewell.
This year, on the 3 December 2010, the RAAF's remaining F111's will fly no more. This remarkable aeroplane, that was built in the late 1960s, had a very uncertain beginning, with huge cost over-runs, delays, wing cracks, etc, but once all the problems were sorted out, it showed what a magnificent aircraft it was.
The RAAF intends to mark this event with a retirement ceremony that will be held at RAAF Amberley over the two days, Thurs 2 December and Fri 3 December.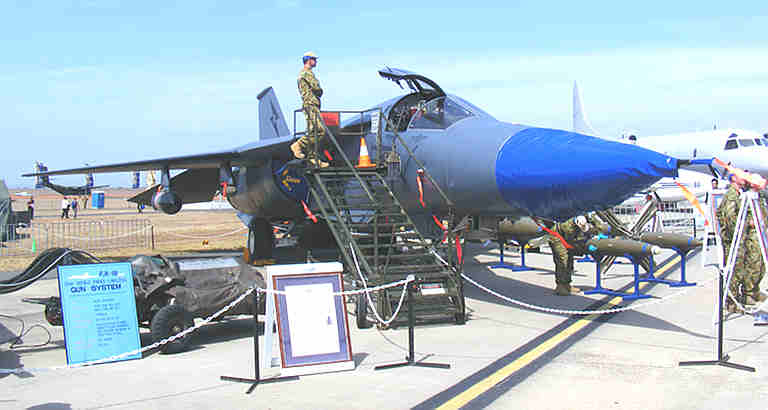 Attendance and entry restrictions to these events will apply, probably to make numbers manageable, and if you wish to attend you will need to satisfy one of the below criteria:
- you must be a current or ex-serving Defence personnel and have had an involvement with the F-111, or,
- you must be a current or previous employee of F-111 Defence contractors who have had an involvement with the F-111, or,
- you must be a current Defence personnel from RAAF Base Amberley, or,
- you must be an invited VIP guest who receives an official written invitation.
If you fit one of these criteria and you wish to go, you have to register, further details can be obtained HERE
Barcaldine.
Recently, John Broughton and I spent 14 days caravanning in out-back Queensland and one town in which we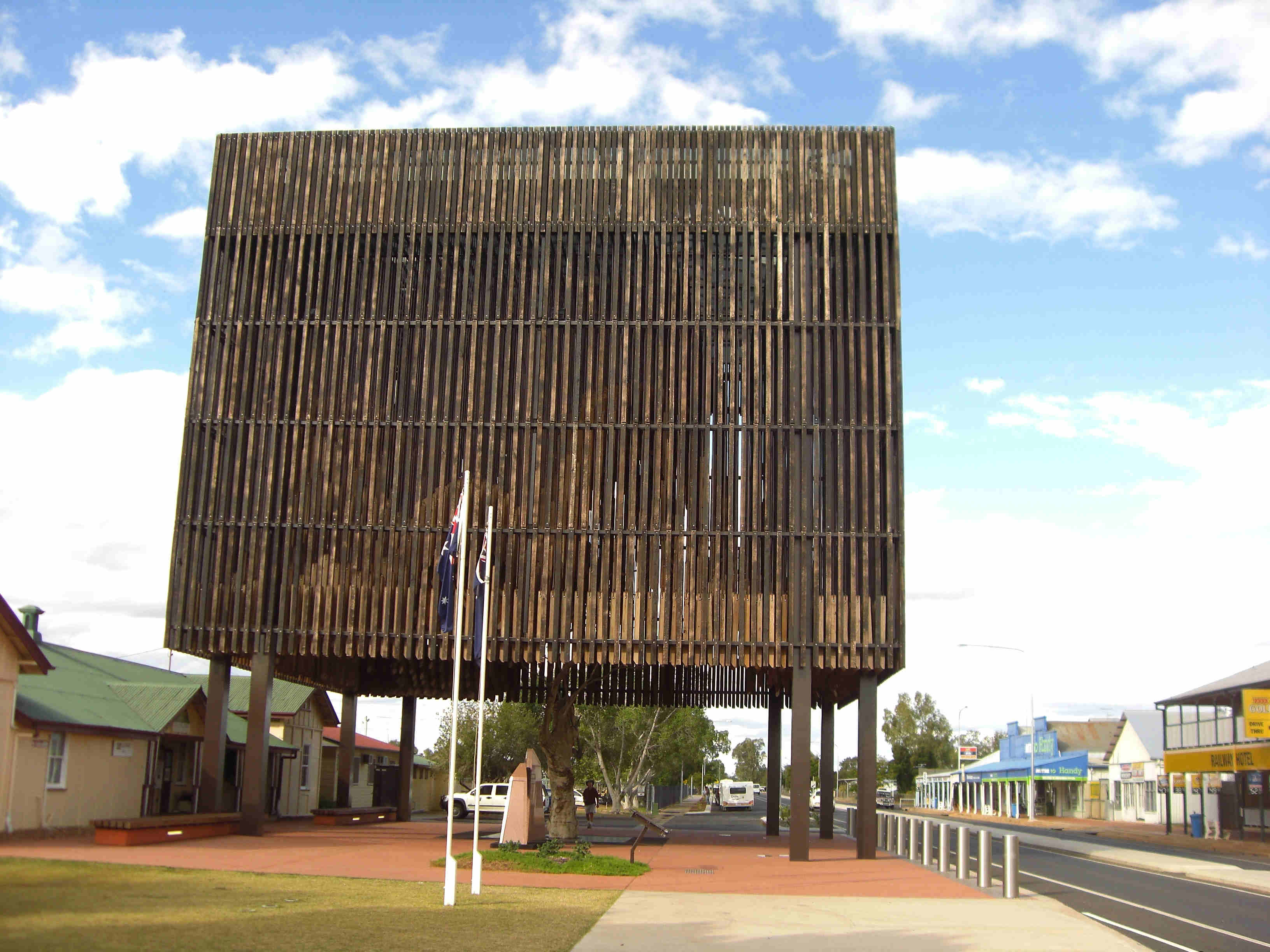 stayed the night was Barcaldine (we must be getting old because we're allowed back!!). Barcaldine is a small town of about 2,000 people and is famous because it is home to the "Tree of Knowledge" the birthplace of the Australian Labor Party. Some time ago, someone with a grudge applied a substance to the tree which did it a fair bit of damage. Today it is just a cement look-alike, stuck inside a monstrous upside down wooden box, though, at night, the box has some discretely green coloured lights which give the impression there are bunches of leaves on the tree. (Click the pic for a better view).
"Barcy" is 520 klms west of Rockhampton and situated on the crossroads between Longreach, (108 klms to the West), Blackall, (108 klms to the south) and Emerald (300 klms to the east). It is known as the Garden City of the West with its fertile soil which is deal for gardening. Its parks and playgrounds, sporting fields, Olympic swimming pool, tree lined streets, hospital amenities and unrestricted water supply are a welcome relief from the typical dry "outback" conditions.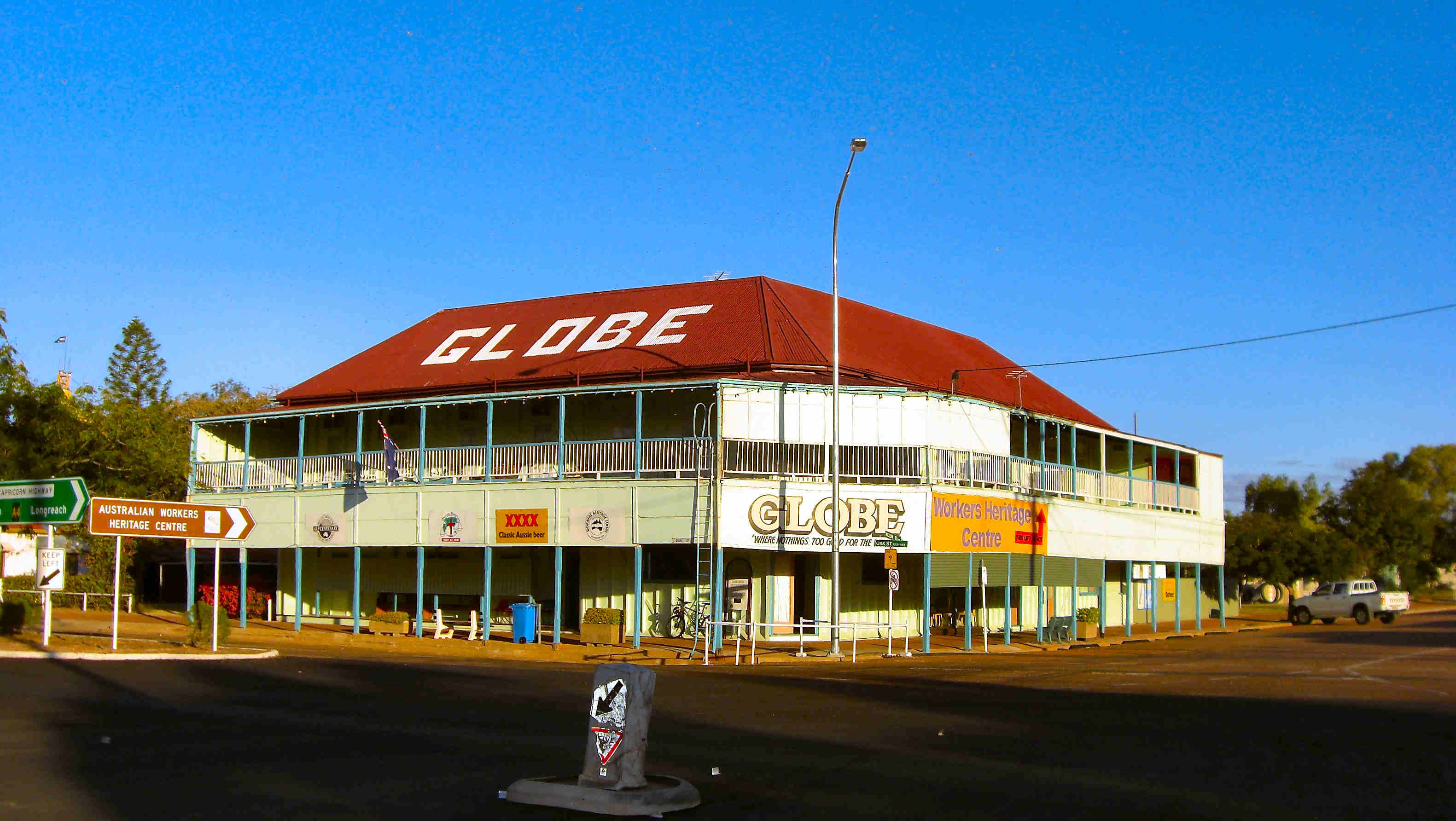 The main street contains some great old pubs, most of which were burnt down at one time or another, though how a town of 2,000 people can support 7 huge hotels is a mystery. It is customary to start at one end of town and have a beer in each one - so, when in Rome.....
Barcaldine is also the home of the Australian Workers Heritage Centre, which is built on 2 hectares and is a centre dedicated to celebrating the lives and proud heritage of ordinary working people – telling the stories of the railway workers and blacksmiths, the farmers, nurses and teachers who shaped the nation. Funny though, we didn't see any mention of the brave men and women who risked everything they had by borrowing and going into business and thereby creating jobs for all those shapers of the nation.
The Heritage Centre is an attraction that can easily soak up 2 hours of your time while you wander through the wonderfully maintained gardens, reading, watching and listening to the many displays.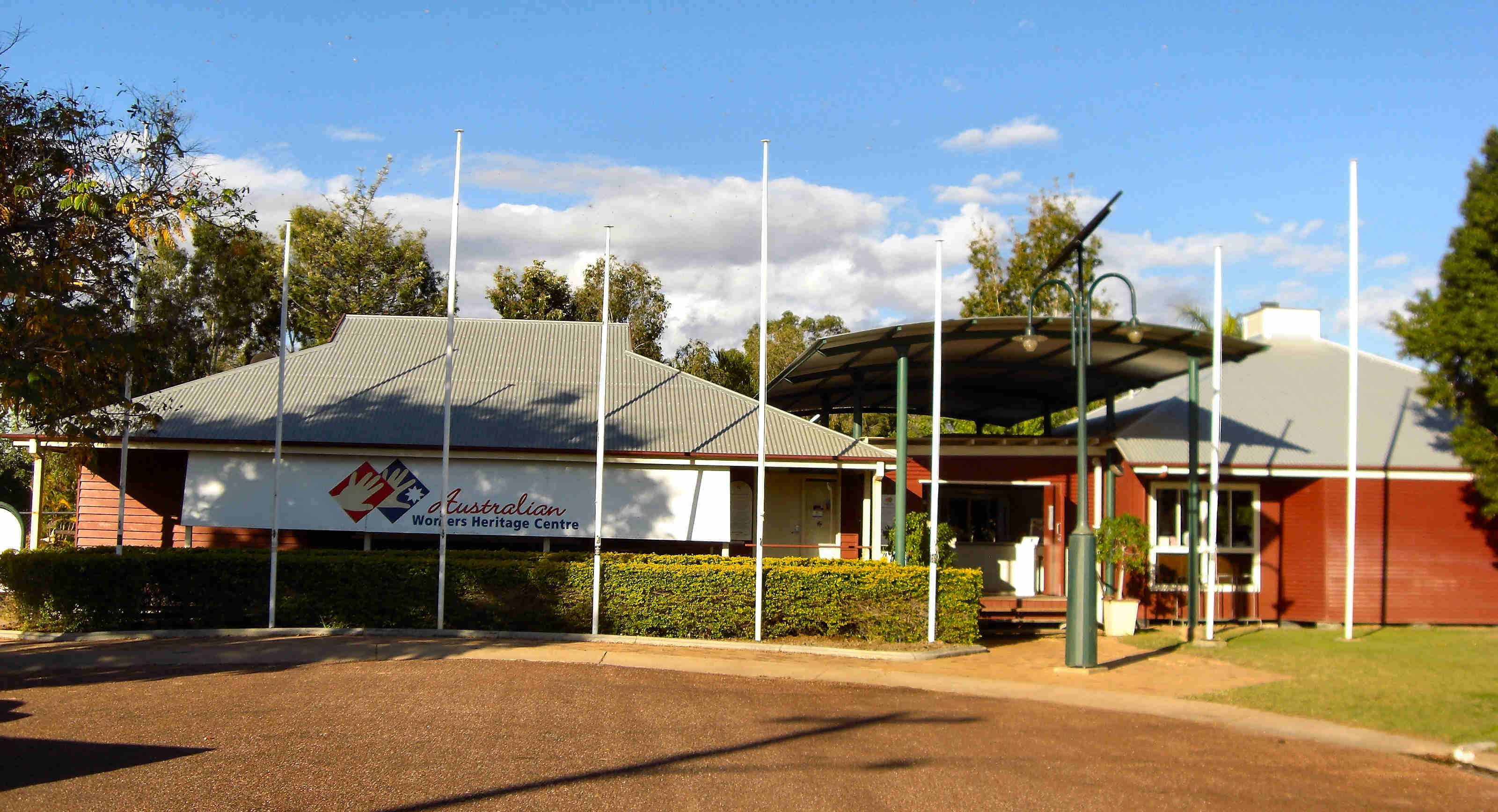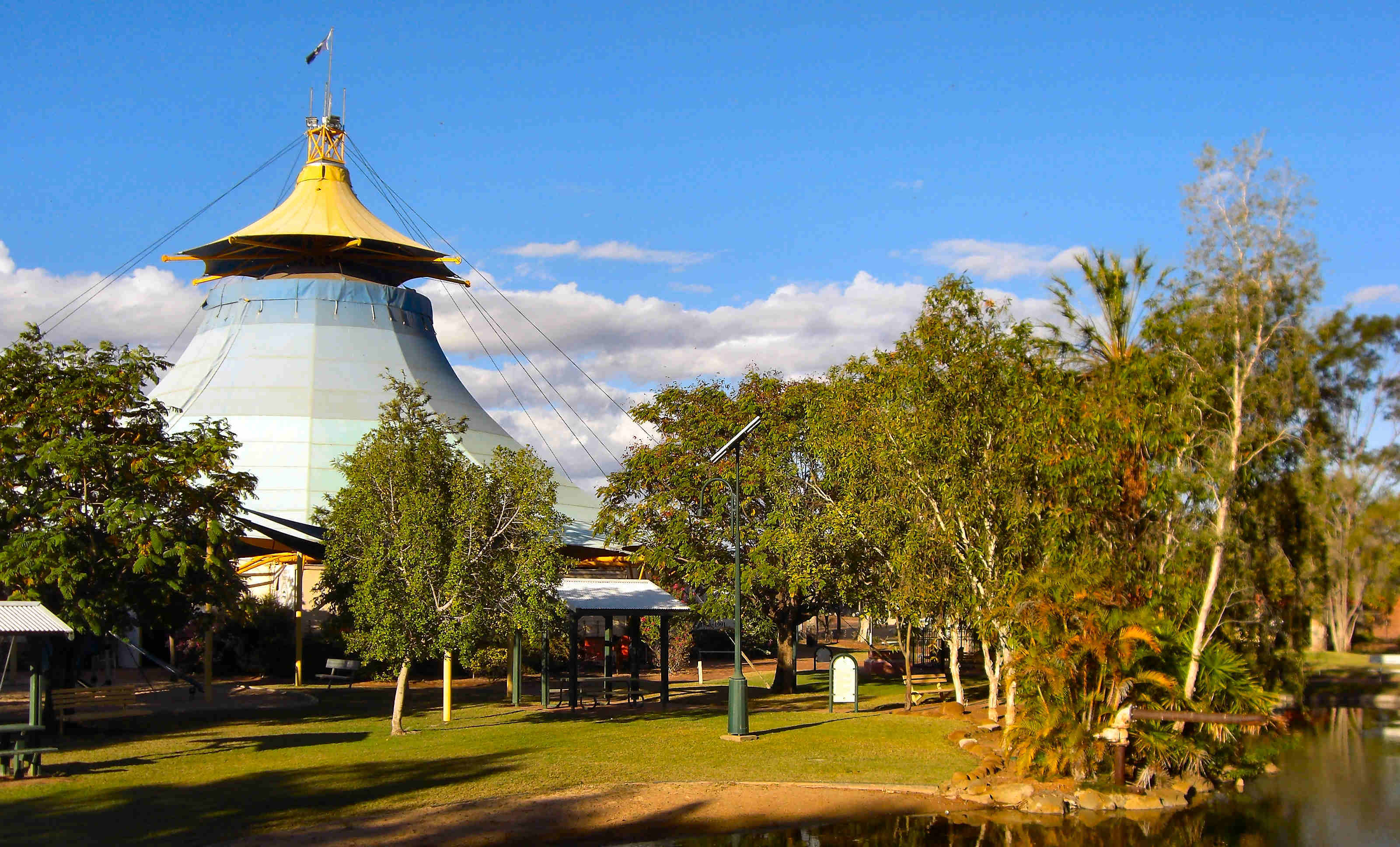 If you've got the van hitched up and you're travelling up that way, you would be well advised to spend a night in Barcaldine as there's plenty to see and do. And!!, there's no better place to stay than at the Homestead Caravan Park, which is just off the "main street", on the road to Blackall.
It's only a short 200 meter walk to the town centre.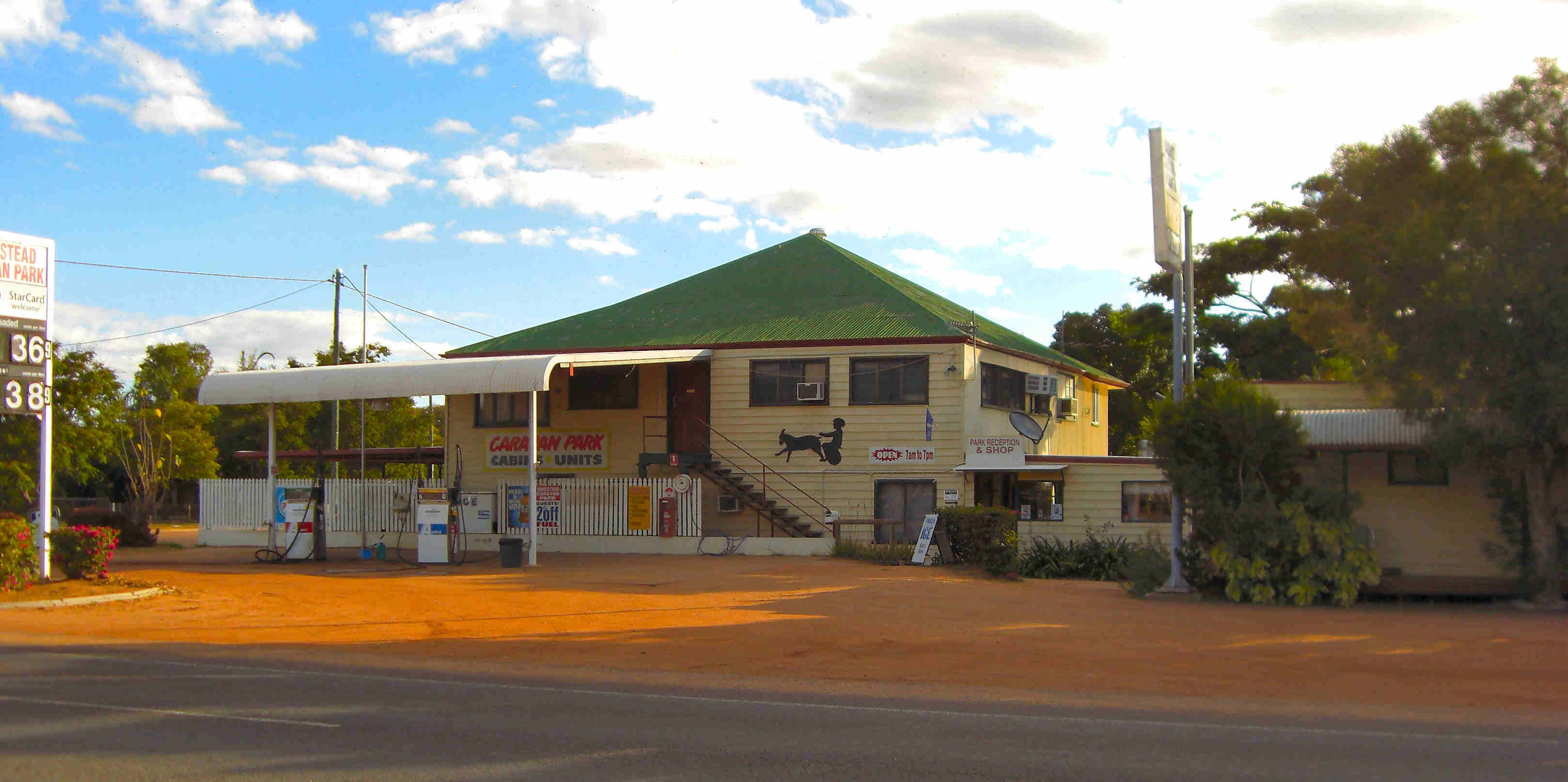 We did, and we can definitely recommend it.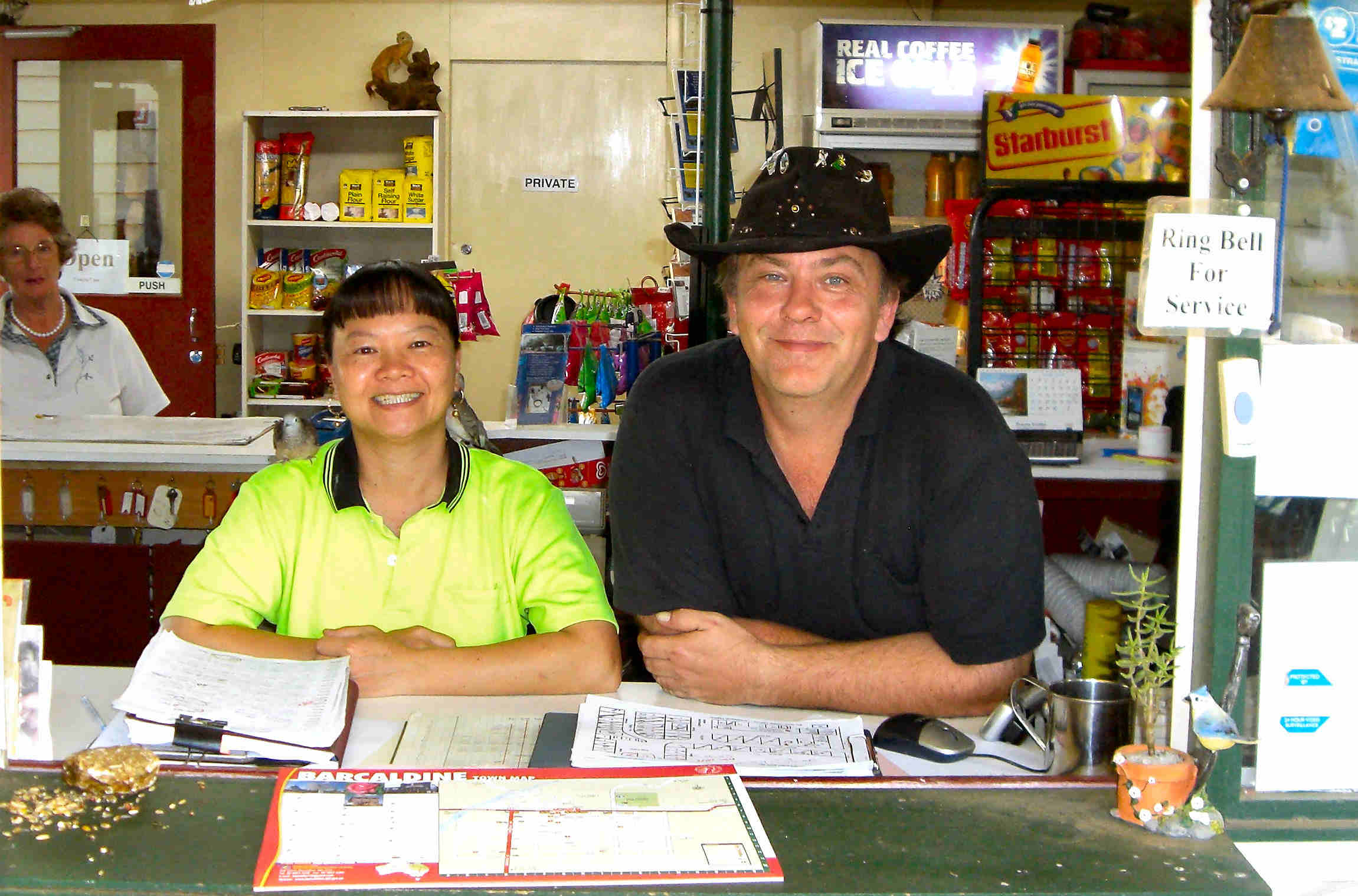 The owners of the Park, Thanh and Ben, are very enthusiastic and go out of their way to make sure your stay is as enjoyable and hassle free as possible. The sites are powered, grassed and shady, there is free wireless internet, and if you're tenting your way around Oz, there are un-powered sites for you.
Every evening in the main season, Ben and Thanh prepare the campfire of gidgee timber which at first burns brightly and fiercely but which eventually settles to a hot glow of red coals. Ben then places the camp oven containing his special damper into the coals and Thanh organises a huge pot of Billy tea, made the outback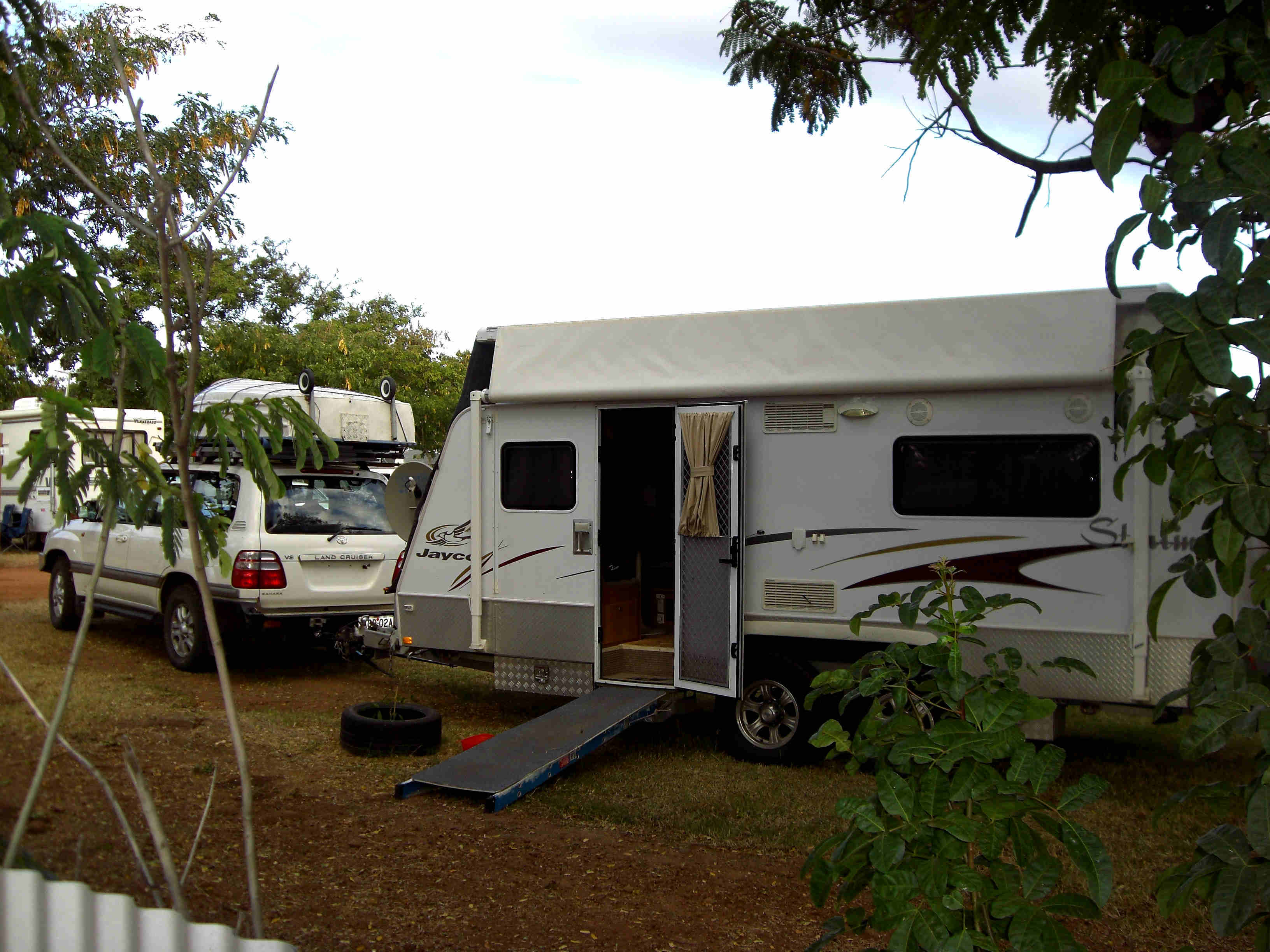 way. This has been a grand tradition and for years people from all parts of Australia have enjoyed this great Aussie welcome. During the winter months there is also the Chinese take-away which is open every Friday and Saturday evening from 6pm.
Our van site
Most nights, a country music singer and a bush poet provide some entertainment, which means that from about 4:30pm, there's about 2 hours of free entertainment laid on for the guests!
A service station is also part of the complex and a fuel discount is available for park guests, handy as they don't give fuel away out there in the bush. And you can get your gas bottles filled there too.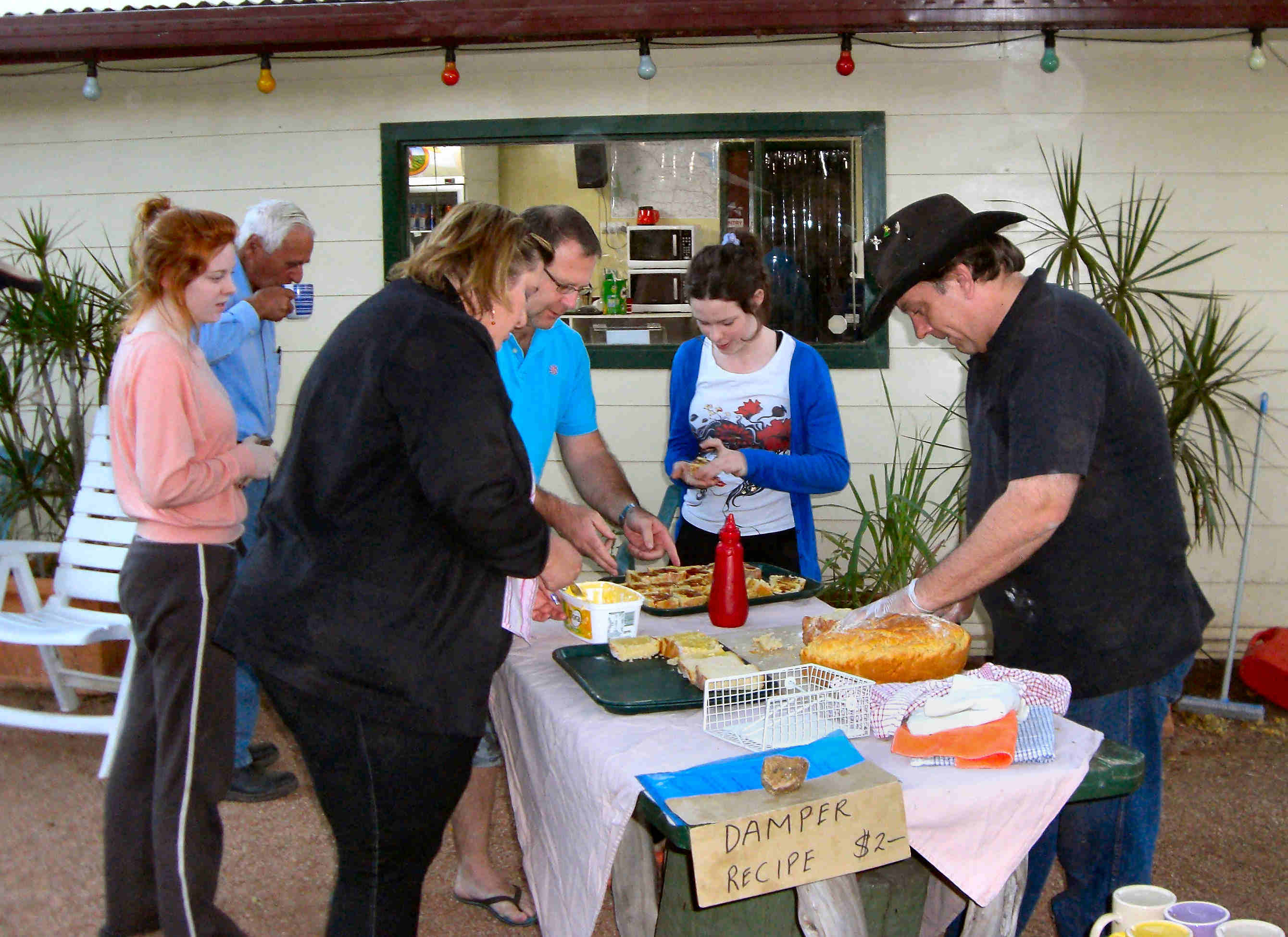 Ben carving up the damper which is served hot with marge and Golden Syrup,
just what the doctor ordered to help the coldies go down.
Click on the pic to get the damper recipe. We've since made it and it works a treat.
Veterans Day.
Every year Thanh and Ben have a special evening for veterans and this year it's on the 18th August. All Veterans are welcome to enjoy an evening of free entertainment, free Billy tea and damper and a free meal. The program is as follows, starting at about 4:30pm
· Tapping Ted and Alan Luscombe (country and western singers).
· The children from the Barcaldine state school performing (sing and music)
· Free Billy Tea and Damper
· Tom Lockie (bushman) with bush poetry and more.
· Followed by a free dinner for anyone in the park.
If you're out that way, or you're thinking of going – don't think, do it!! For reservations, call Ben or Thanh on 07 4651 1308 or you can email them on info@homesteadcvpark.com.au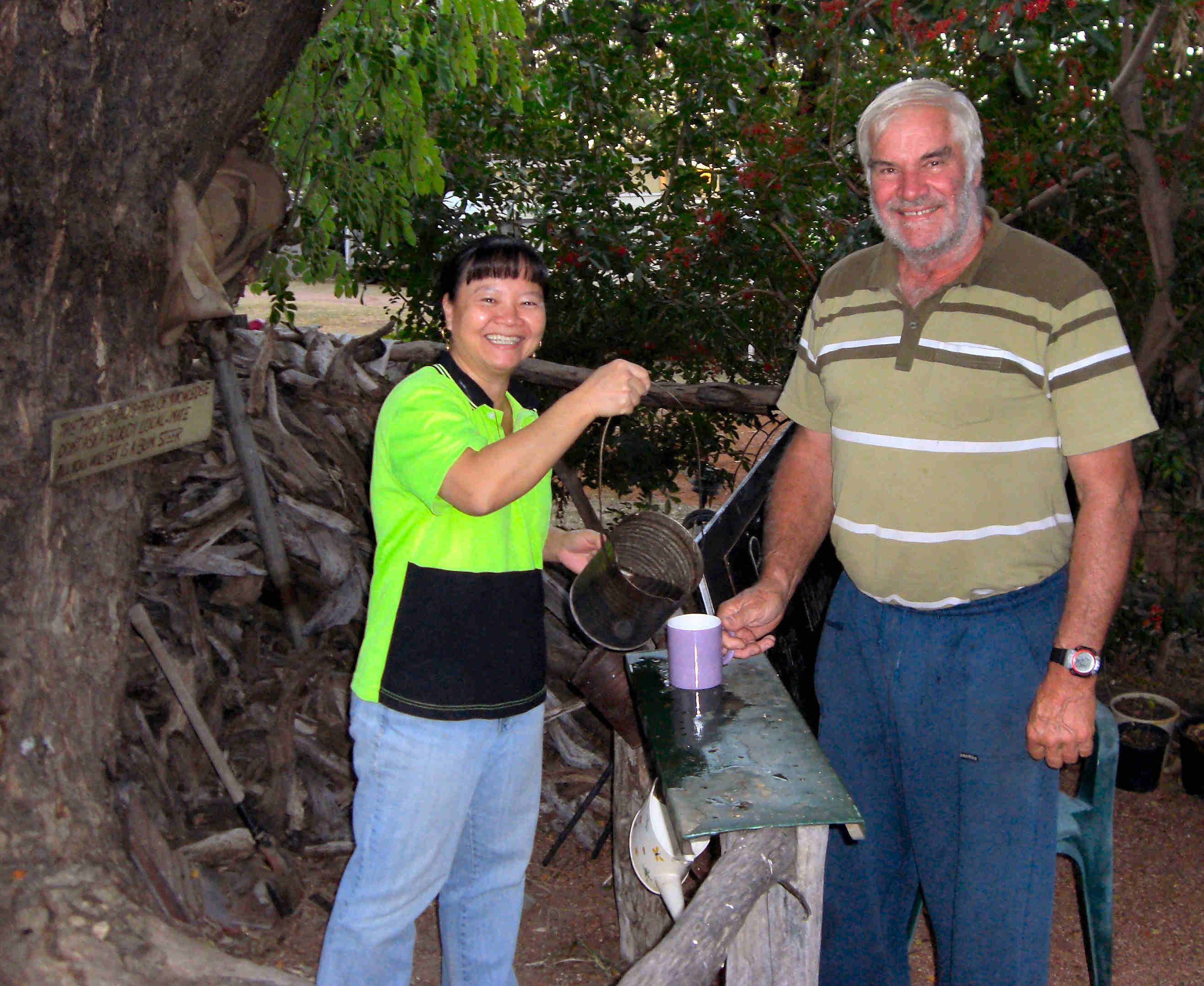 John Broughton tucking into the hot Billy tea – and getting special personal service.
Must have been the clean cut look and the elegant dress that earned him that!!!
AND!!!! If you are going caravanning, THIS is not the way to do it...
I was listening to some rap music this afternoon.
Not that I had a choice, it was coming out of a pink Gemini five kilometres away
WRAAF Reunion.
Rosemary Coleman is the Secretary of the Brisbane Branch of the WRAAF Association which is part of the RAAF Association Queensland Division. She says: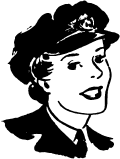 "The WRAAF Branch Brisbane is hosting the 2011 National WRAAF Reunion to be held in Brisbane from 28 to 30 January 2011 at the Mercure Hotel, North Quay, Brisbane. This reunion will celebrate the 60th anniversary of the formation of the WRAAF.
The Reunion is for all ex WRAAF who served between 1951 and 1977, ex RAAF servicewomen, current serving RAAF servicewomen and ex WAAAF members. You can get further info from here http://www.wraaf.org.au or you can call Dianne on 07 3202 7625, Rosemary on 07 3879 4889 or Rosie on 07 3889 3728."
You can download the registration form from HERE.
Iroquois A2-771.
Steve Hartigan advises that No 9 Sqn Association has been successful in its bid to acquire an Iroquois and has just been allocated A2-771 under the government dispersal plan. A2-771 was originally delivered to 9Sqn in Vung Tau in July 1968.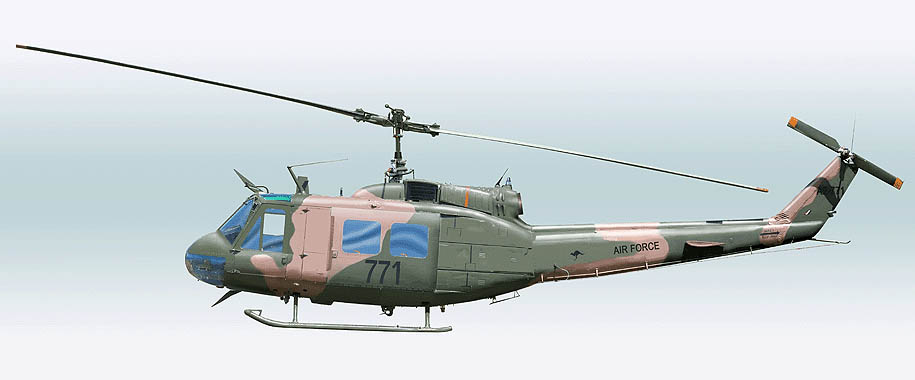 The association had pushed for A2-773 for historical reasons but this was not successful although it is being allocated to someone – that someone is, at present, unknown, but investigations are proceeding. No 9 Sqn Association acknowledges the great effort by members like Jim Roche, Brian Dirou, Graeme Chalmers and others who started the project and have continued to press for a successful allocation.
No 9 Sqn Association had asked for a flyable Iroquois but unfortunately the government in its wisdom has not allowed this. We have been allocated some GSE (ground support equipment) like wheels to enable us to move the chopper around and it will be stored at the RAAF Base Amberley Historical Museum. Graeme Chalmers is currently negotiating to have A2-771 removed from its current location to Amberley. We will also call for volunteers to assist in the maintenance and restoration of this aircraft in due course and shall hopefully marshal a team to manage the project. More on this as the situation becomes clearer.
A passenger in a taxi leaned over to ask the driver a question and gently tapped him on the shoulder to get his attention. The driver screamed, lost control of the cab nearly hit a bus drove up over the curb and stopped just inches from a large plate glass window. For a few moments everything was silent in the cab. Then the still shaking driver said 'Are you OK? I'm so sorry but you scared the daylights out of me.'
The badly shaken passenger apologized to the driver and said he didn't realize that a mere tap on the shoulder would startle the driver so badly. The driver replied 'No no I'm the one who is sorry it's entirely my fault. Today is my very first day driving a cab. I've been driving a hearse for the past 25 years.
REOA Calendar,
The REOA Committee is looking at two events for 2010 and would like to know the general level of interest in them so as to decide whether they are worth further investigation.
The first is a trip, later this year, to the Aviation Museum at Temora (see their website for information), probably combined with a side visit to Wagga. This would involve chartering a bus and one or two overnight stays. There is a possibility that a DVA grant could be obtained to cover the bus costs. This possibility and cost/timing aspects of the trip as a whole, will be investigated if justified by the level of member interest.
The second proposed event is a golf day, details of which will also be worked out once we have an indication of interest.
If you are interested in the Temora/Wagga trip, please let Noel Hadfield know HERE, and
If you are interested in the golf day, please let Peter Jupp know HERE
There is NO NEED to respond if you are not interested in either trip.
Another visit to the RAAF Museum at Point Cook has been arranged, this time on Sunday 17th October, 2010
Details are as follows:
| | |
| --- | --- |
| Time | Event |
| 10.00am | Museum opens for tour of inspection of memorabilia and static displays. All welcome. Suggest everyone arrive and park ready to go by no later than 9:50 AM |
| 11.00am | Adults only to visit Ron Gretton's box kite project. Ron will give details on this interesting project. Note that children are not allowed on this part of the tour, as it is in the workshop area hence there are OH&S considerations. Any children will be looked after by REOA nominated chaperones for about 30 minutes. |
| 11.30am – 12.30pm | Catered lunch in either the old Officers' Mess or more likely the Cadet Annex which contains much ex-Frognall memorabilia. This is about a 5 minute walk north from the Museum. |
| 1.00pm Sharp | Flying display commences. We need to be back at the Museum by no later than say 12.50 PM, allowing for the walk back from lunch. The flying display followed by a talk from the pilot will take about 1 hour. |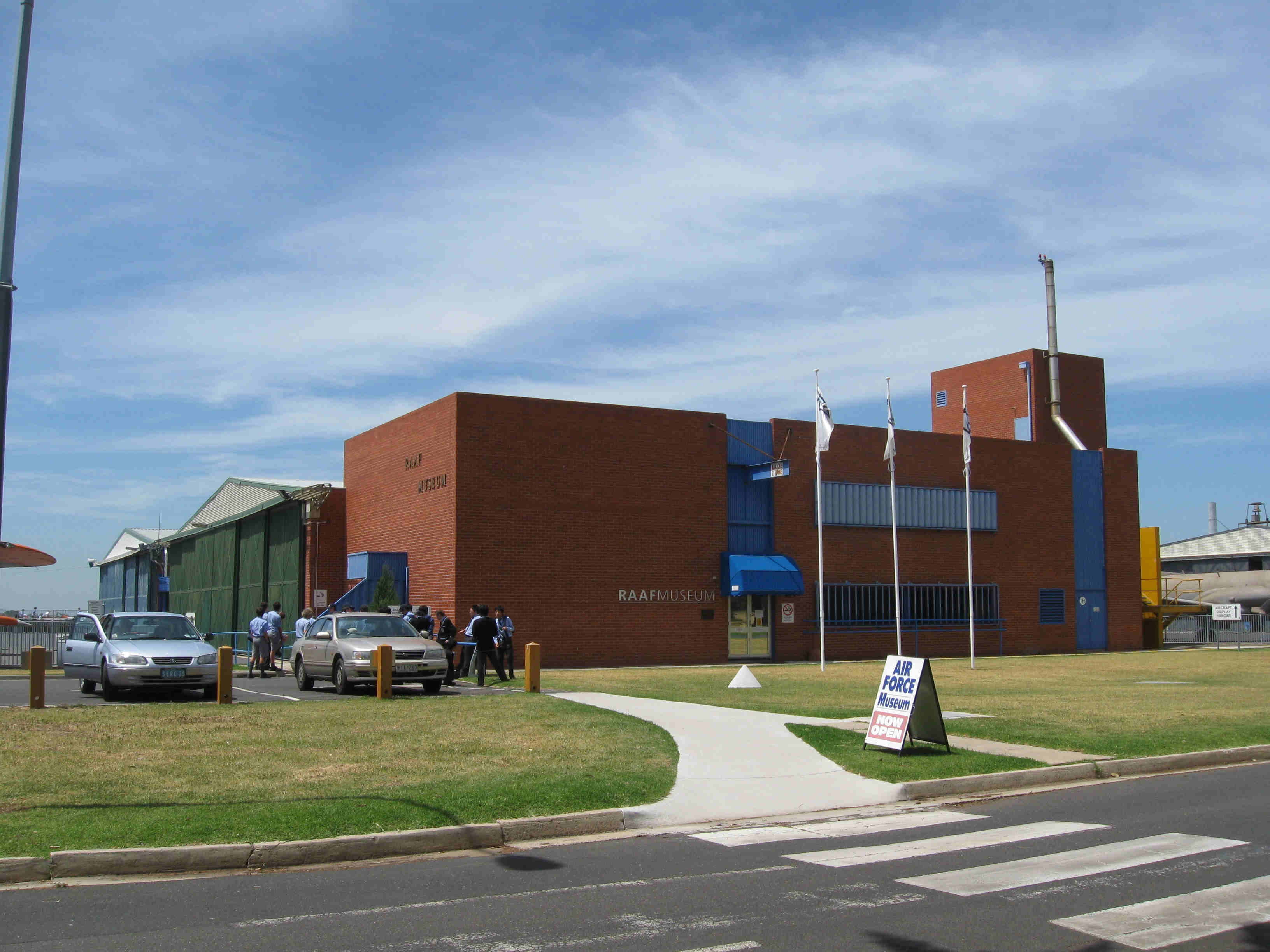 We ask that members and families make their own way to Point Cook on the day. Security clearance will be required at the main gate on arrival.
Admission to the Museum is free but an indicative cost for lunch is $15 per head for adults and $10 per head for children, plus drinks.
To help with our planning, we need to gauge the level of interest in this visit. When convenient therefore, please let me know if you are likely to attend and the number in your party, including family, friends and children. Please email me HERE
Please note that this is a survey only; an "official" invitation will be issued nearer the event.
Boycott shampoo! Demand the REAL poo!
21 Sqn.
On the 1 July 2010, 21SQN merged with CSUWIL (Combat Support Unit, Williams [RAAF Laverton is called RAAF Williams these days]), as has all of the other 20 series Squadrons (merged with their co-located CSU units), to form a new 21SQN under WGCDR Courtney as the new CO. Coupled with this organizational change, 21SQN has also re-located from the old hangars at Laverton where they have been housed for some 70+ years, to more modern accommodation in P3 at Point Cook; the old Academy buildings located immediately on the right hand side as you enter the base, just past the guard check point.
The new 21SQN has also taken on the role of providing base facility support for both Laverton and Point Cook and also retained its training role until at least the end of 2011 at which time more structural changes would be introduced.
RAAF – ARMY Relations.
There has always been rivalry between the RAAF and the ARMY. In the eyes of the average Army bloke, the RAAF blokes and blokettes seemed to always be better off, to have better conditions, better food, etc, but is it just friendly rivalry like between Queensland and New South Wales during State of Origin time (Up the Maroons!!!) or is there something more sinister behind all this.
Have a look at THIS.
Charlie Don't Surf, But Aussies Do.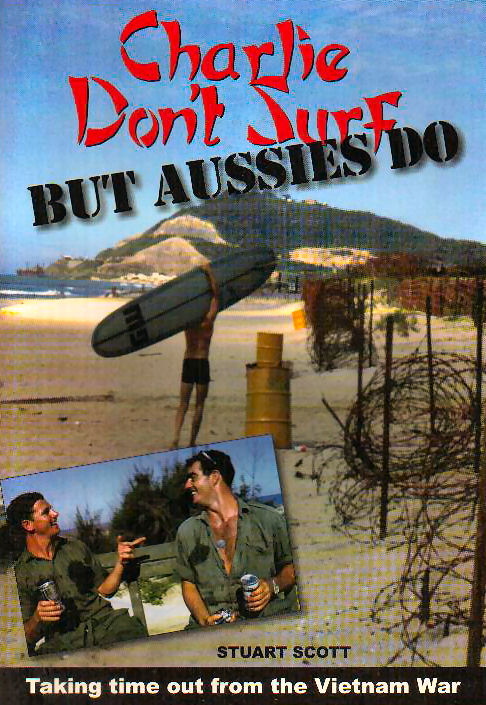 Stuart Scott has put together a book about the Peter Badcoe Club at 1ALSG, Back Beach, Vietnam. It's called "Charlie Don't Surf, But Aussies Do''. (They tell me Rob Meyer has bought a hundred copies - tb)
The book has been well received by veterans over the past year and if you'd like a copy, there are a few left at the discount (for us) price of $15 which includes postage within Australia. It's normally $30 plus postage but tell Stuart you read of the discount in the RAM - and you get it for $15.00.
You can see further information on the book HERE and if you wish to order a copy, the best thing to do is contact Stuart via email at charliedontsurf@y7mail.com just to make sure there are copies left and to arrange payment.
Clothes definitely make the man. Naked people have little or no influence on society.
And we know you want another look at that slo mo camera - so it's HERE
Back Go to page: 1 2 3 4 5 6 7 8 9 10 11 12 13 14 15 16 17 18 19 Back to start