Radschool Association Magazine - Vol 32
Page 3
Privacy Policy | Editorial Policy | Join the Association | List of Members | Contact us | Index | Links | Print this page
Page 3 Girl.
Our page 3 girl this issue is the lovely Karinne Cilento, who, before she married Simon Cilento, was Karinne McDougall, the daughter of John McDougall, Caribou man for longer than he cares to remember.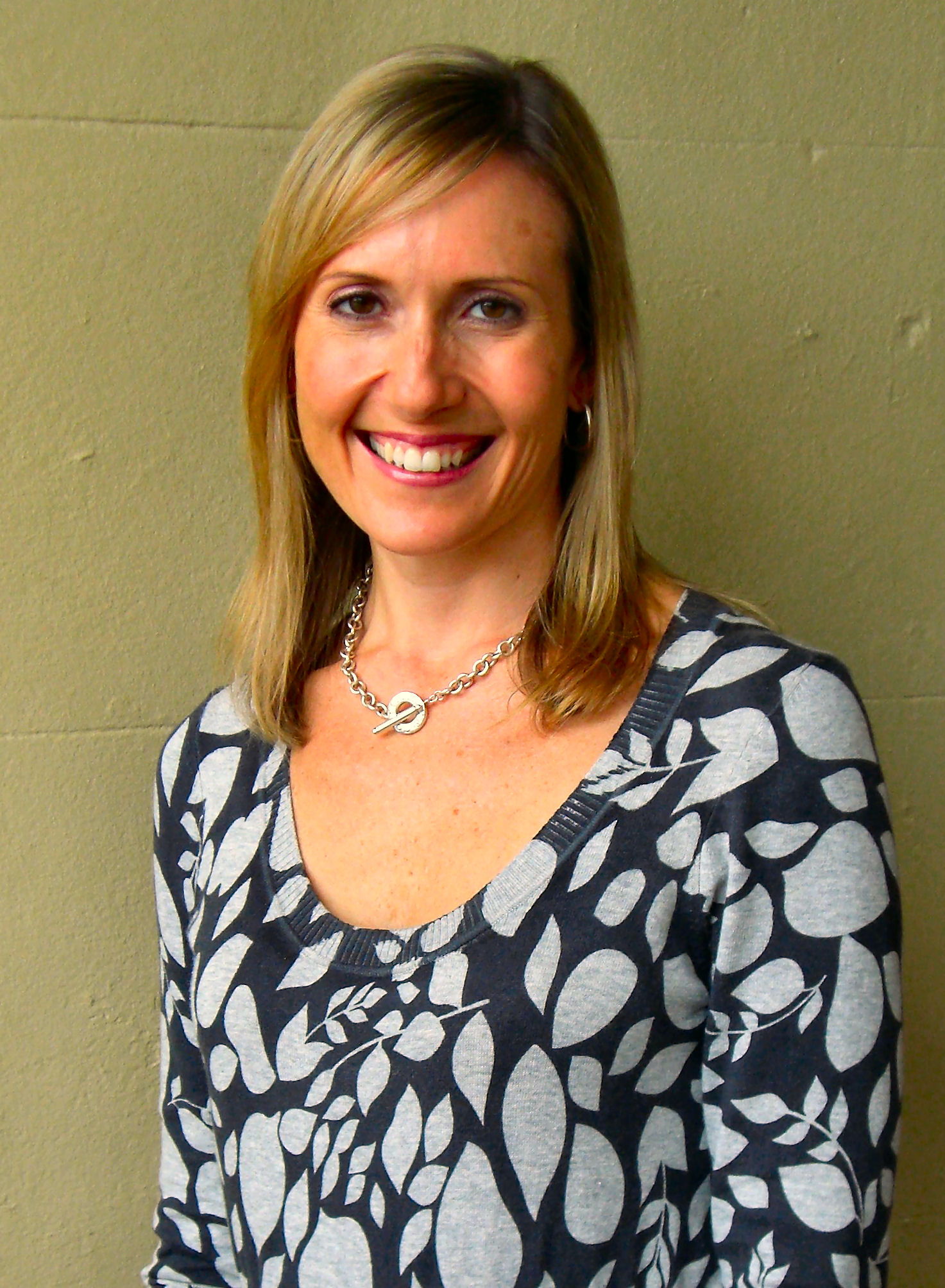 Karinne works with Boeing Defense Australia and in November of 2007 visited the Boeing factory in Long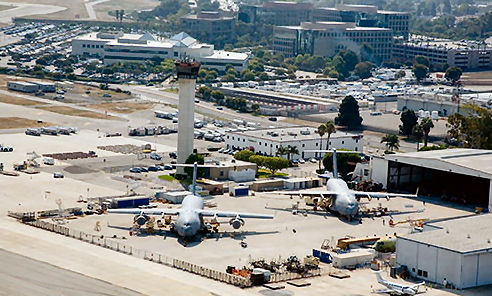 Beach California and inspected the fourth of the RAAF's C-17's which was being assembled.
Karinne really has aeroplanes flowing through her veins, with a dad who was a loady on Caribous for a million years, it was only natural that she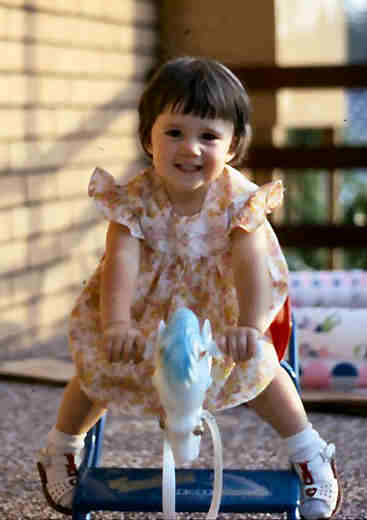 married someone who was also aeroplane-ish.
Her husband, Simon, was a Navy Sea King chopper pilot but, after being reminded a gazillion times that he made a huge mistake in joining the Navy and not the RAAF, has since left and turned to the law.
We spoke to dad John who told us Karinne was a delight as a young girl and being a proud dad, he gave us a photo of a very young Karinne who would have been about 2 years old when the pic was taken.
We know Karinne would insist that we share it with you.
2OCU.
John Scott sent us the photo below which we had in our last issue and John was a little unsure of the names of the blokes in the pic – and asked for assistance.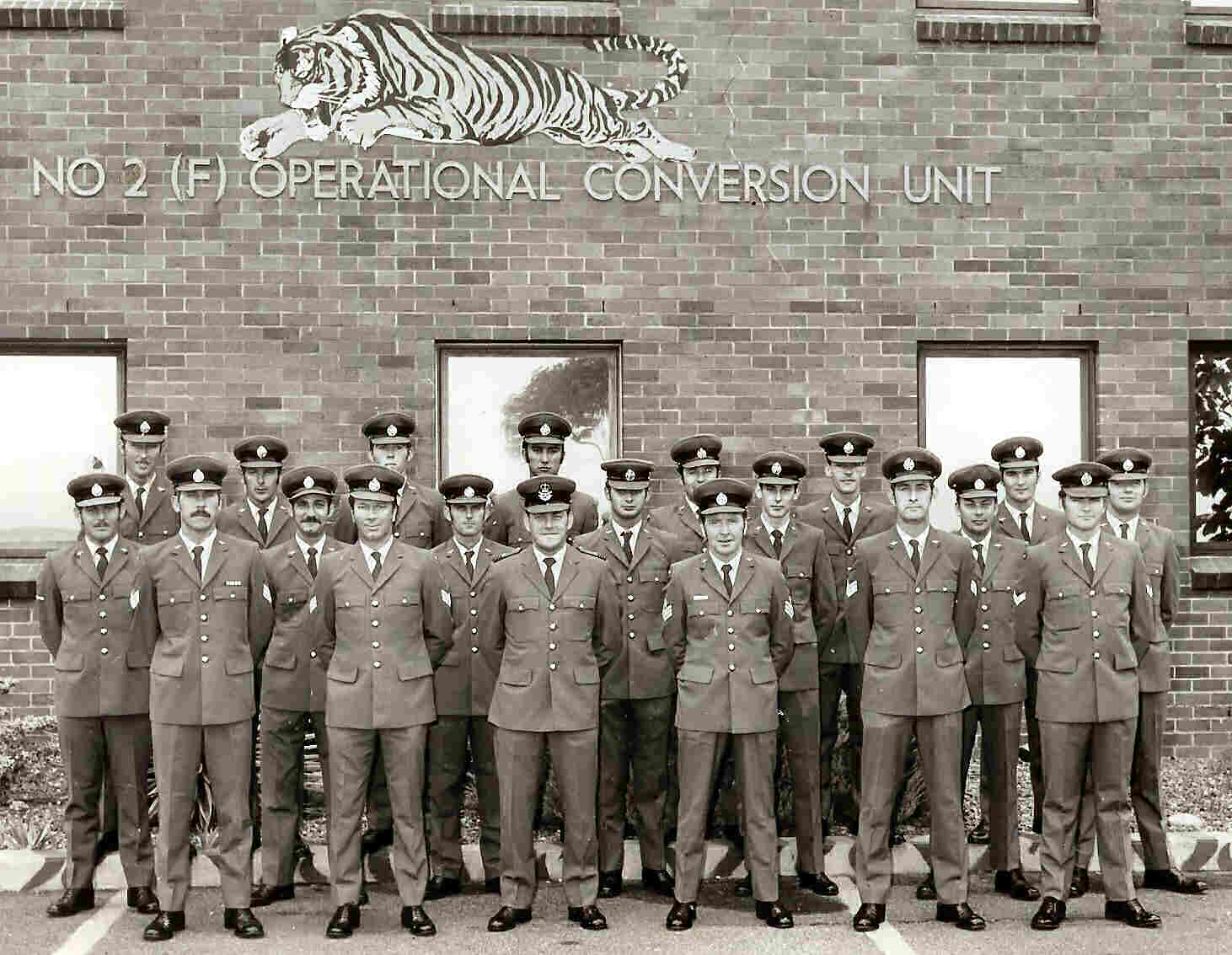 Greg Jones saw the pic and his memory obviously isn't as corrupted as John's as he can remember most. Greg also confirms that the year it was taken was 1975 because John Green was the FSGT in 1974 (he was posted to 478SQN Malaysia) and Bluey Gilmore took over the reins.
Greg says he fondly remembers the section as "Lance Warren's TV repair shop" as that seemed to be the major activity. "It seemed to me that somehow we young guys profited from Lance's experience with TV repairs while Lance simply profited. Slave labour?"
We're still short two names, if any-one can help??
The names we have are:
Back row L-R: Greg Jones, Col Redding, ??? ???, Col Sanders, Steve Bognar, Steve Todd, Noel Brumley, John Scott.
Middle Row L-R: "Tiger" Lee (not sure of first name), John Blair, Terry Thurn, Ron Green, ??? ???, Roy Ferguson
Front Row L-R: Dick Homewood, Lance Warren, Geoff Schmidt, Blue Gilmore, Bob Saxton, Ted Marlborough
2 Sqn Phan Rang Comms Centre.
This photo below is of all the 2 Sqn Phan Rang, Vietnam, Comms Centre WOff's. We believe the photo was taken at a recent get together held at the Penrith RSL.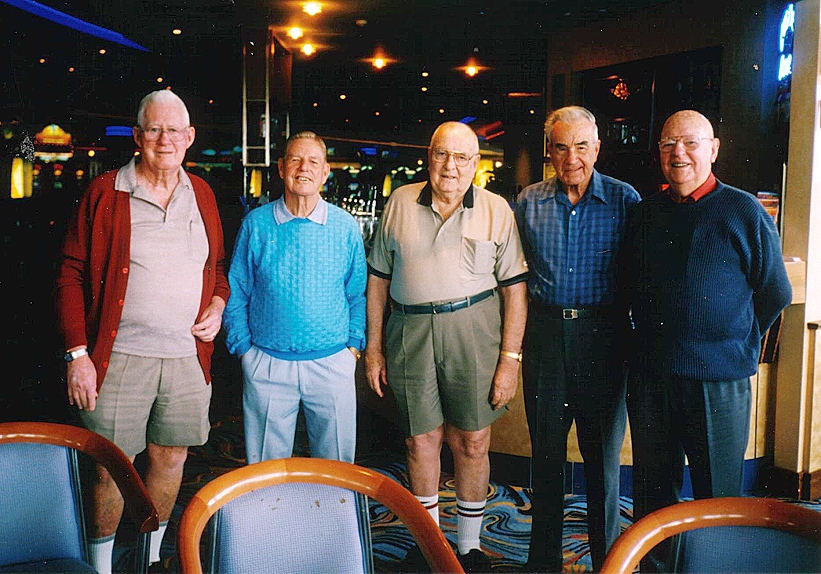 L-R: Blue Taylor 1968-69, Charlie Bannister 1969-70, Tom Coombs 1971-72, Jack Giddey 1967-68, John Tregillgas 1970-71
Anzac Day 1953 (or 1954).
Joy Hutchinson sent us the photo below which is of a bunch of Point Cook WRAAF's who marched in the Melbourne Anzac Day march back in either 1953 or 1954. The photo was taken in a hotel dining room at the top end of Collins Street. Joy says the WRAAF's met up with girls from the Army and Navy and the group decided to finish the day off having a few drinks out of sight of prying officers. And, just to confuse the issue a little bit more, the girls swapped uniform jackets.
Joy is third from the left, in the front row, with the Army jacket and Navy Cap.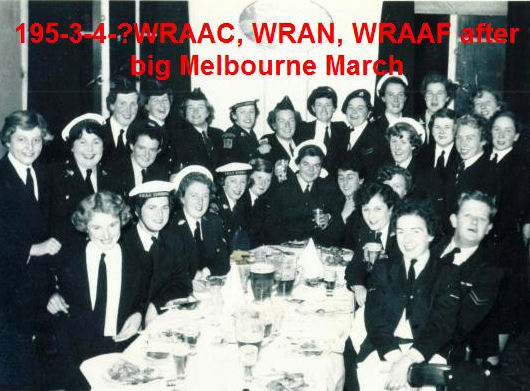 Bob, a 70-year-old, extremely wealthy widower, shows up at the Country Club with a breathtakingly beautiful and very sexy 25-year-old blond-haired woman who knocks everyone's socks off with her youthful sex appeal and charm and who hangs over Bob's arm and listens intently to his every word.
His mates at the club are all aghast. At the very first chance, they corner him and ask, 'Bob, how'd you get the trophy girlfriend?' Bob replies, 'Girlfriend? She's my wife!'
They are knocked over, but continue to ask. 'So, how'd you persuade her to marry you?' 'I lied about my age', Bob replies.
'What, did you tell her you were only 50?' Bob smiles and says, 'No, I told her I was 90.'
Bones – 1966.
John Bryant sent us this photo of the RAAF Tug of War team that contested the "Bones of Contention" competition in 1966. John, like most of us, can't remember a lot of names and needs some help.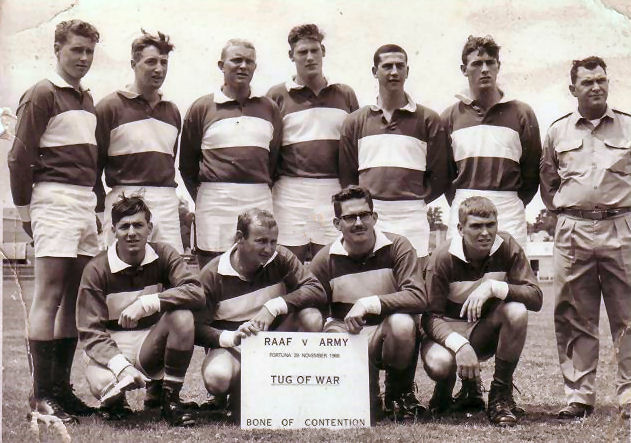 Standing L-R: Unknown, Unknown, Unknown, Unknown, Unknown, Unknown, Toby Payne
Kneeling L-R: Unknown, John Bryant, Unknown, Unknown
If you can help and fill in some blanks, please let us know.
As they say at the Planned Parenthood Clinic, better late than never.
66 TELEGS (Instructor: Cpl Don HORSBURGH)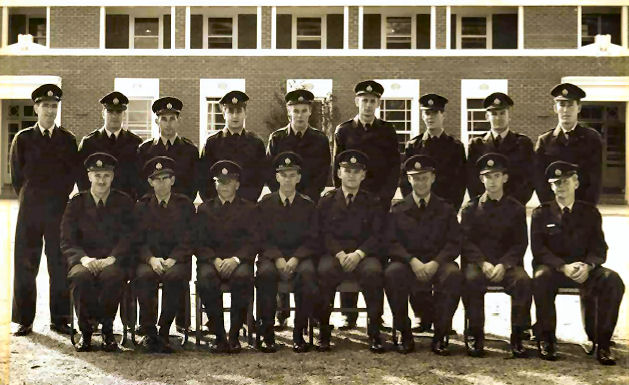 Back Row, L-R: Bernie McDERMOTT, Bruce NEAVE, Col METCALF, Lionel ROSE, Bob PLATT, David ROE, Gordon BASSETT, Roy "Dutchy" HEASLIP, Ray ARLOTT
Front Row L-R: Lloyd MEREDITH, Clarrie BROWN, Noel VINSON, Bruce WESTON, ?? ROBERTSON, ?? WOOD, Col "Limpy" MALLETT, Mick FARGHER
Cracking an international market is a goal of most growing corporations. It shouldn't be that hard, yet even the big multi-nationals run into trouble because of language and cultural differences.
In Taiwan, the translation of the Pepsi slogan "Come alive with the Pepsi Generation"
came out as "Pepsi will bring your ancestors back from the dead."
184 WRAAF Recruit Training Course.

184 RTC finished their training at Edinburgh on the 20 July, 1969. We only have one name, Sheryl Weatherspoon, middle row, 7th from the left.
If you recognise any more, please let us know. You can see a larger copy of the photo HERE
979 RTC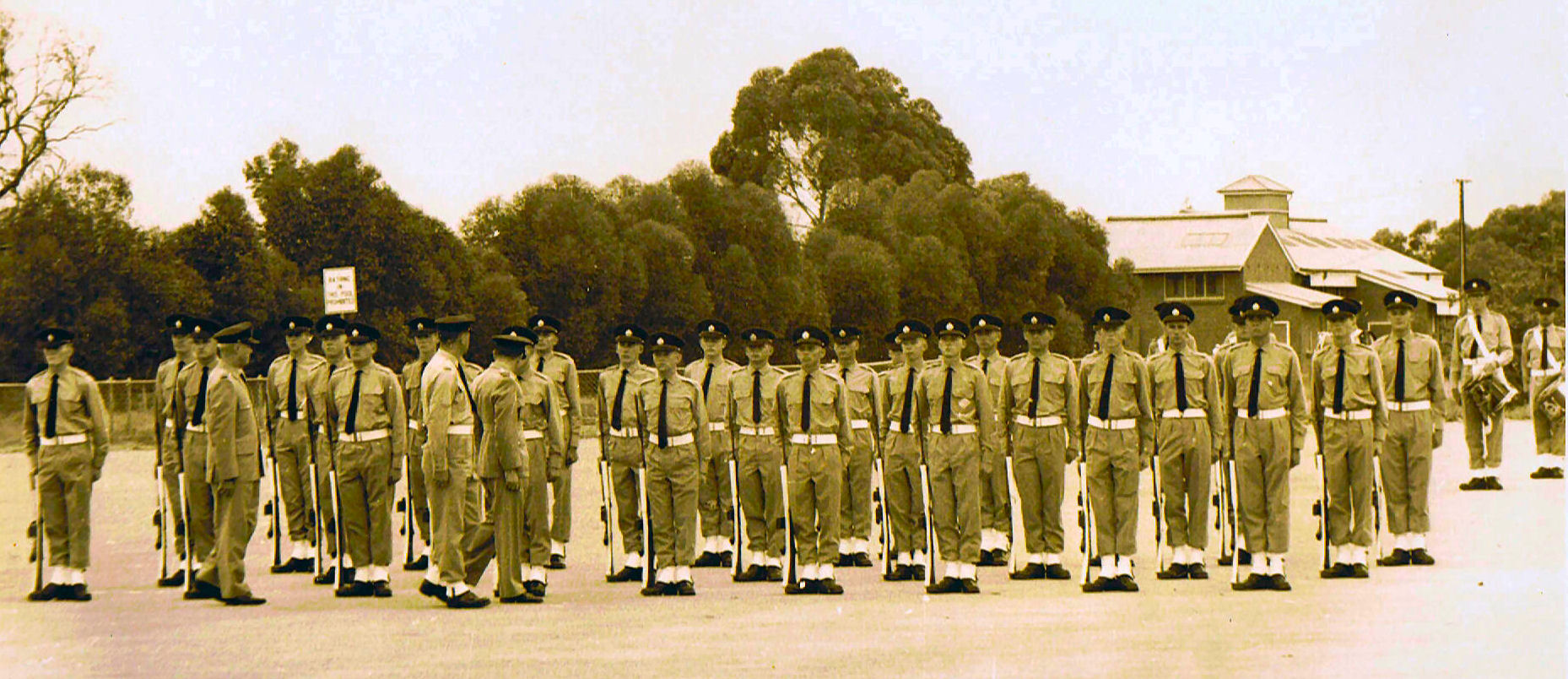 Gerry Walsh, who was on 979 Recruit Training Course at Edinburgh in 1969, sent us these passing put parade photos.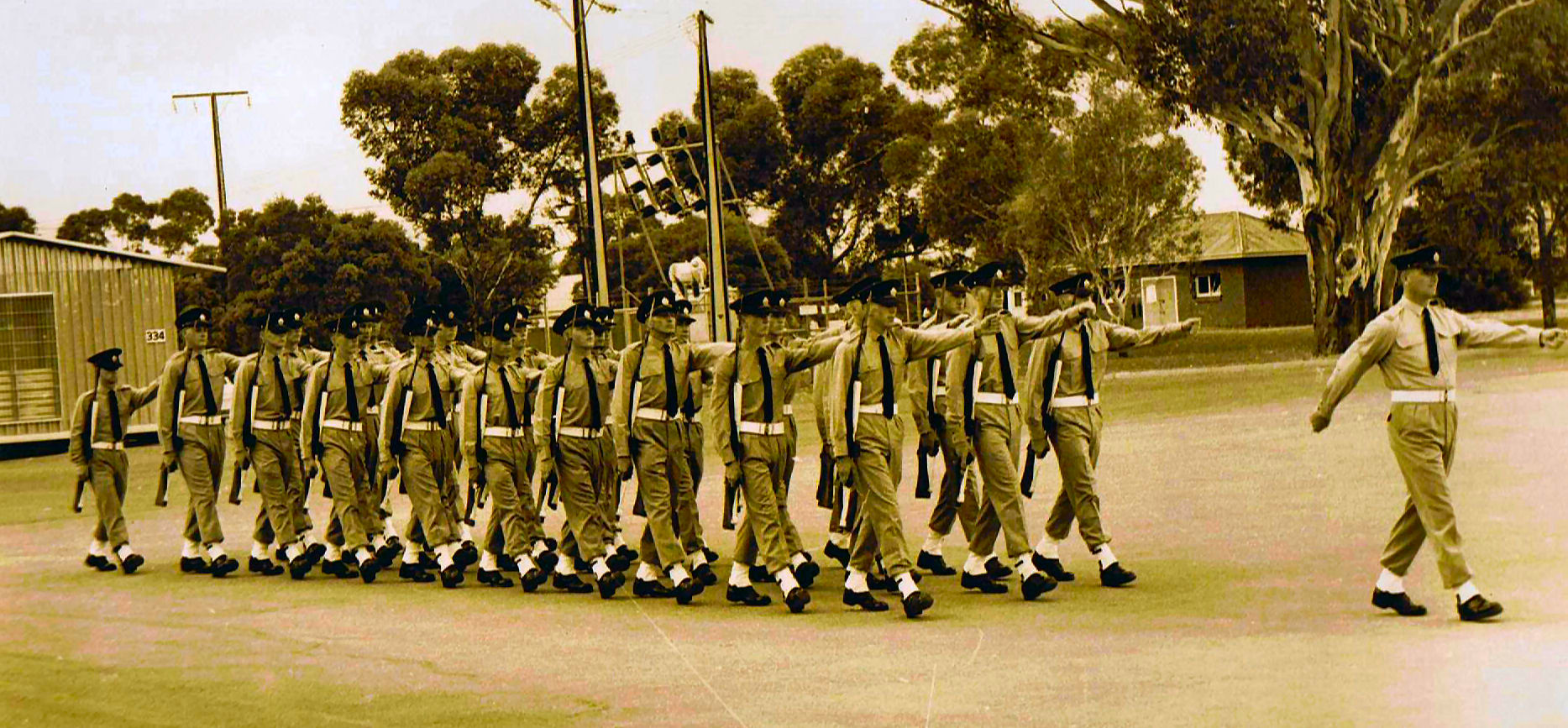 His course was known as the "Hamilton Tigers", named after their DI, Cpl Hamilton. The CO at the time was (he thinks) Wng Cdr Bruff.
Gerry can't remember any names, but if you were there………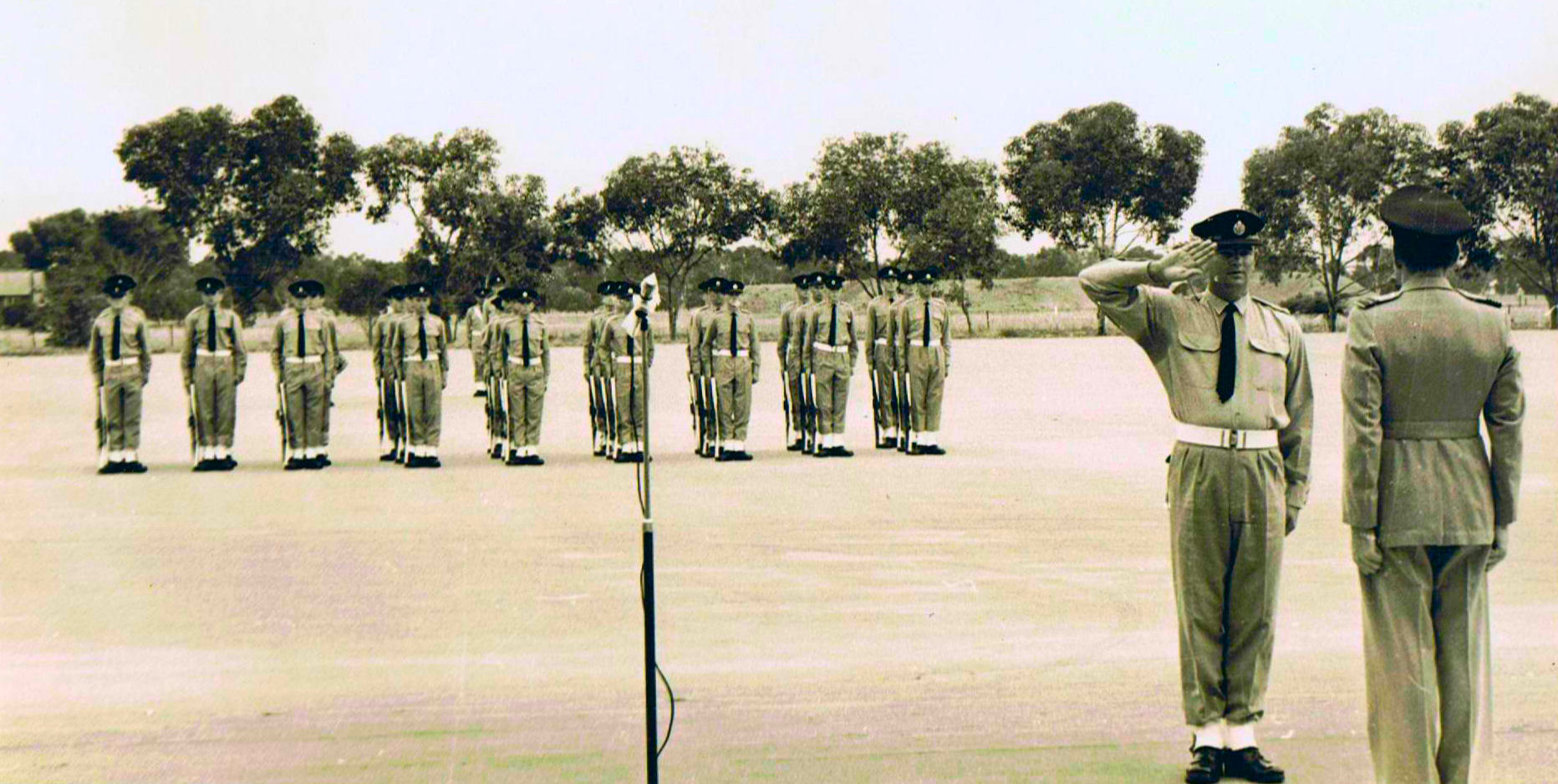 Wasn't it all just a great big fat load of fun???
Anzac Day – 1997.
This is a photo of blokes from RTFV/35Sqn who marched on Anzac Day, in Brisbane, for the first time under their own banner - in 1997.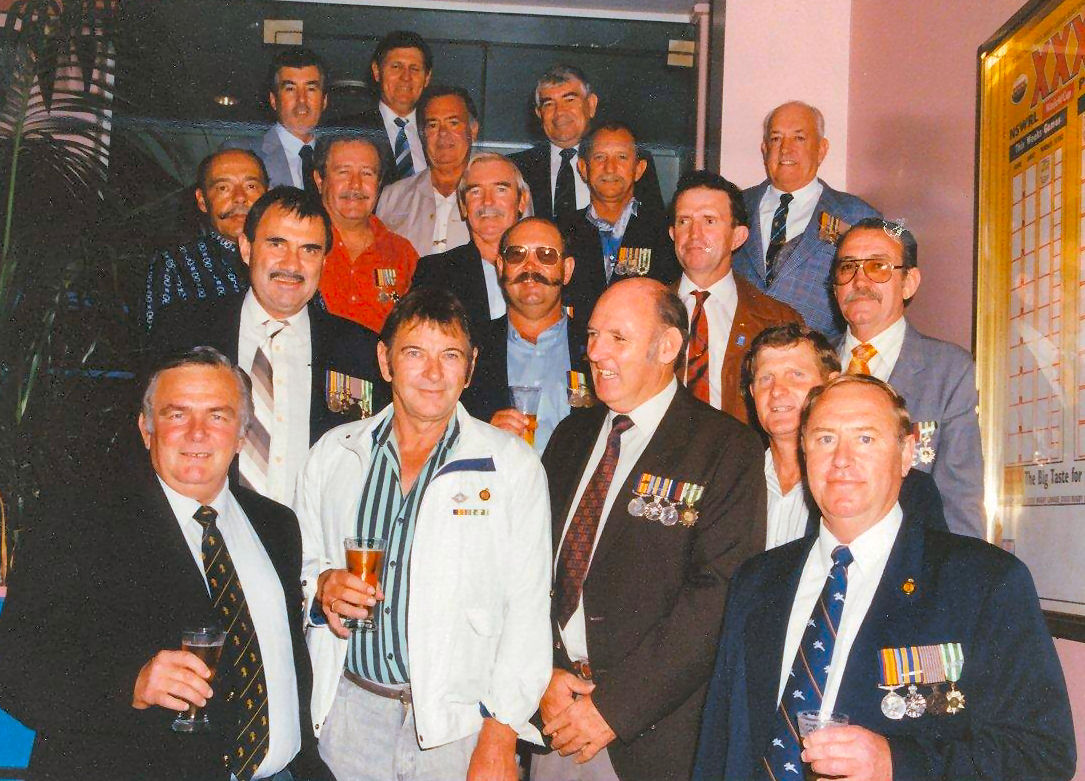 Back Row, L-R: John McDougall, Len Scrase, Jim Mercer, Don Lovell
3rd Row, L-R: Charles Gaucci, Ted Barnard, Keith Kinch, Dennis Window, Max Turner.
2nd Row, L-R: Ted Strugnell, Phil Koy, John Holte, Rowley Badcock.
Front row, L-R: Brian Carney, Don't know, Charlie Downes, Geoff Hall, Rocky McGregor
The photo was taken at the Irish Club, at the start of the "de-brief" – with Wng Cdr Rod "Rocky" McGregor 'presiding'.
Laverton Appyland Staff – 1963.
Keith Green sent us these photos.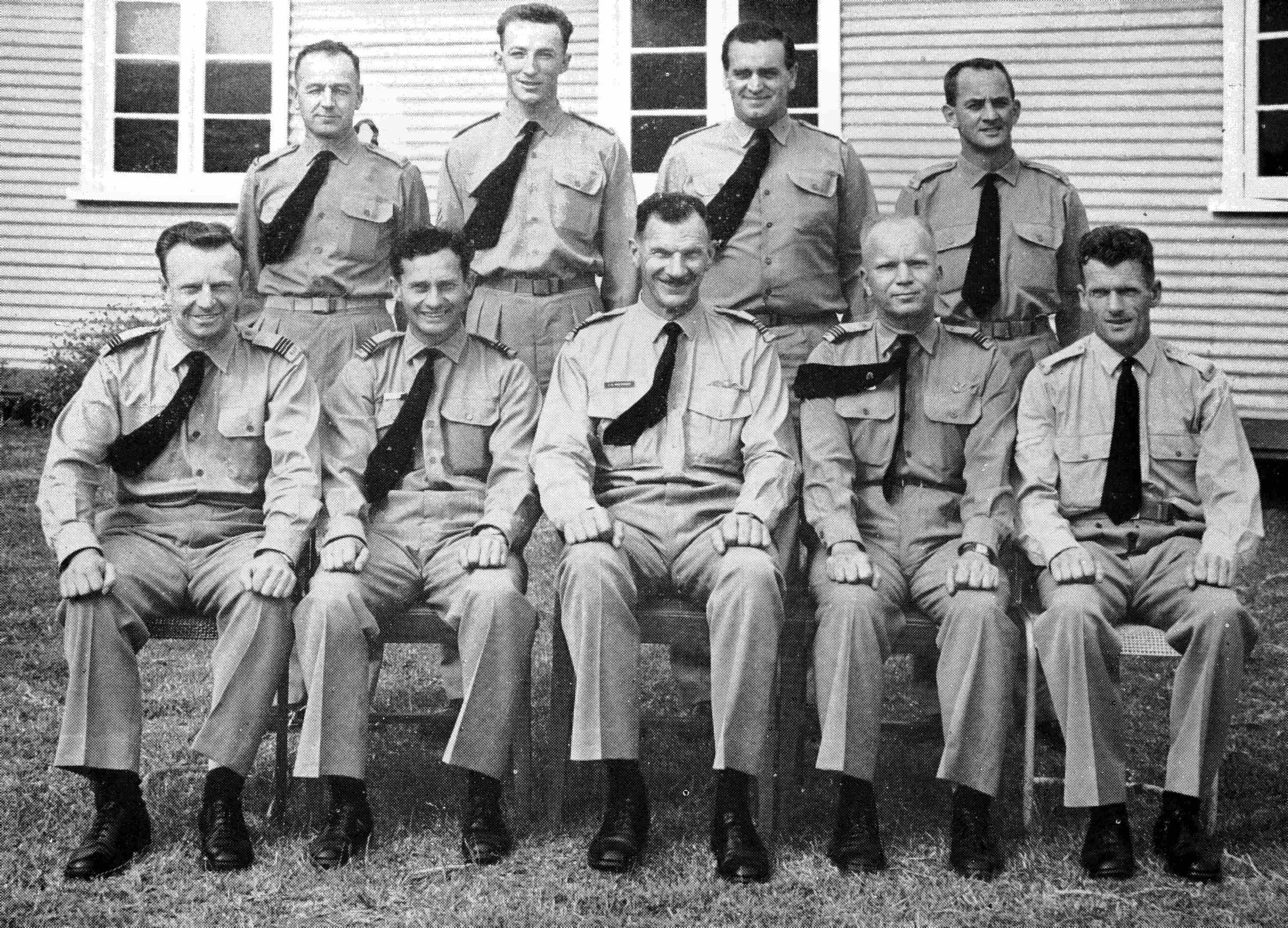 Back Row, L-R: Cpl Quincey, Cpl Kennington, Cpl Barker, Cpl Fletcher
Front Row, L-R: Flt Lt. M. Fuller, Flt Lt E Holmes, Sqn Ldr J Mierisch, Flt Lt C Gould, Cpl H Leach.
In China - the Kentucky Fried Chicken slogan "finger-lickin' good"
came out as "eat your fingers off."

16 Appy course, Laverton, 1963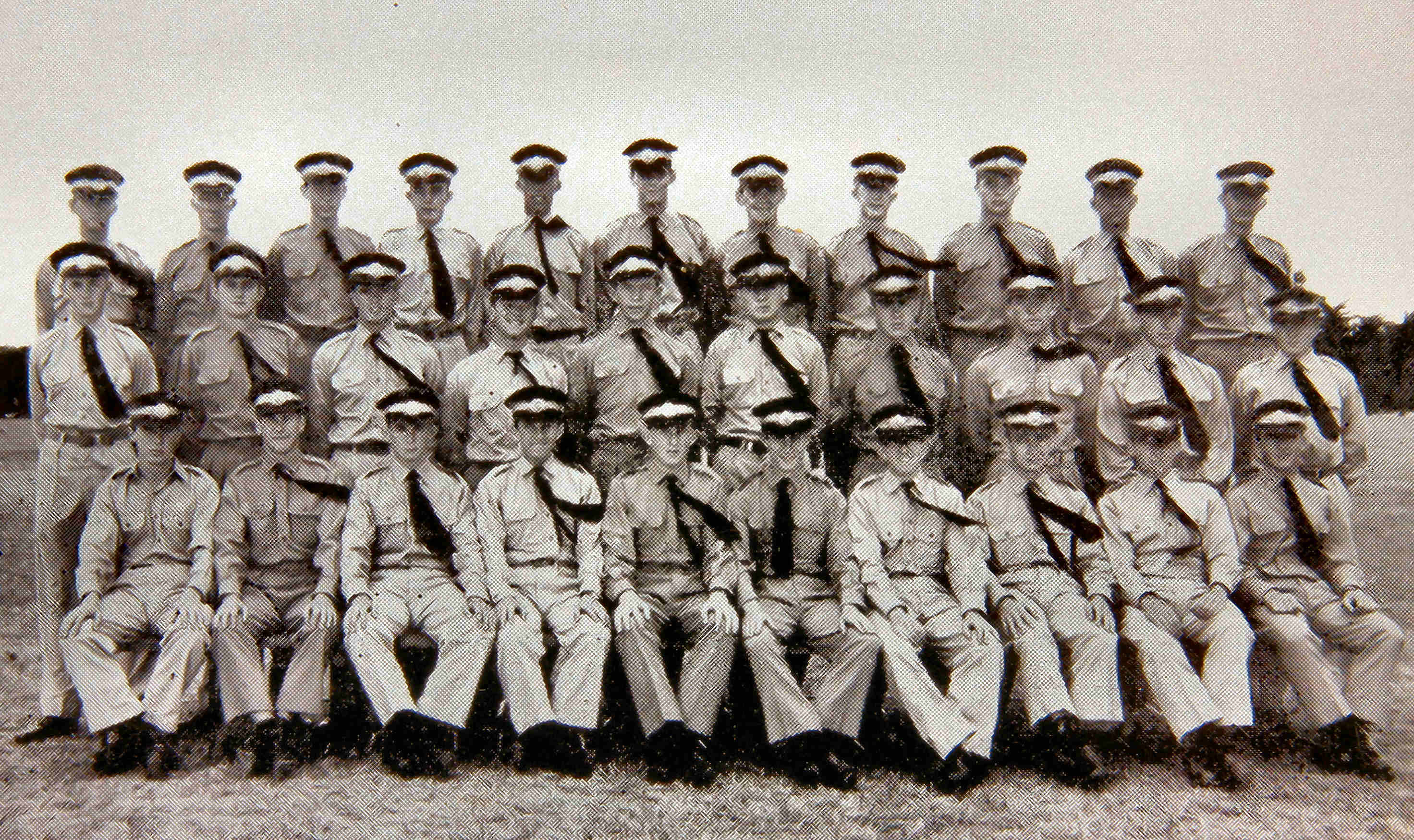 These are the names of the blokes in the pic, which finished training in July 1964. Unfortunately, the names are only in Alphabetical order. Can anyone match them against the faces???
BG Allan, IC Batty, CE Benson, L Condon, FA Cooke, NG Davis, BD Deloub, RC Edwards, RE Fenton, DC Freedman, CS Hill, CW Hunt, BK Jordan, CJ Littlehales, KD Lingwood, C Lovett, MB McKay, RB Quinn, WE Rix, AJ Semler, HA Sims, GK Shakespeare, LM Smith, JR Storer (Now deceased, but I think 4th from the left, second row - tb), F Taylor, BW Tonkin, LD Valentine, G Vanderstoep, BK Ward, RL Wilson
17 Appy course, Laverton, 1963.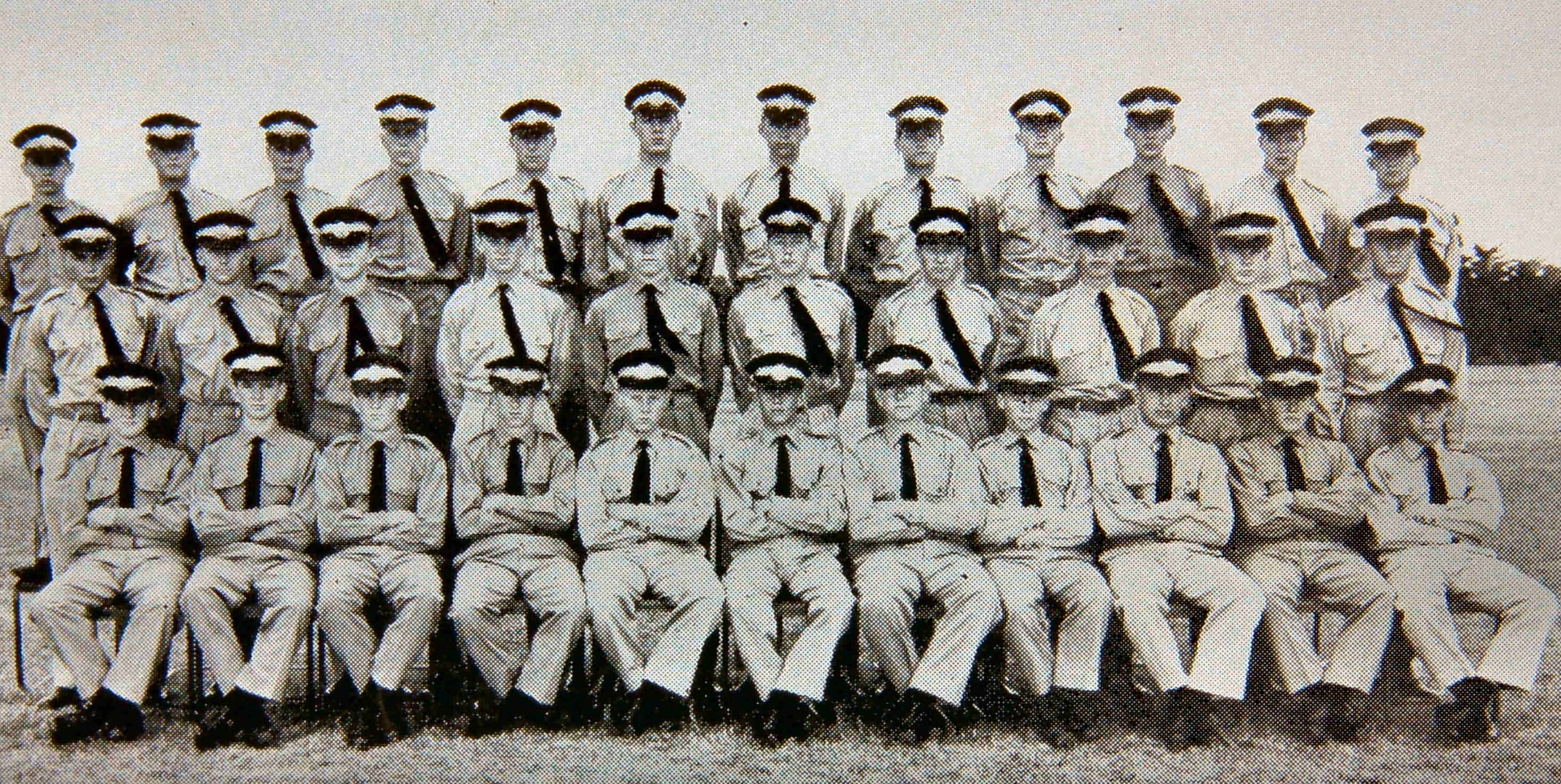 These are the names of the blokes in the pic, which finished training in July 1965. Once again, the names are only in Alphabetical order. Can anyone match them against the faces???
AR Blyth, RA Carrington, P Chappelow, RC Clayton, (6th from the left, middle row) RG Crawford, T Crews, GE Dennis, KJ Dinham, LS Drummond, PA Duncan, QR Fleming, JW Foley, KL Green, WJ Holker, ID Kerr, RL Matters, AJ Natt, MJ Nicholls, PA Outtrim, JM Pergunas, JR Pickup, BM Richardson, AR Robertson, ED Rowe, CG Short, GR Sinclair, DS Slattery, AG Stevens, GJ Trezise, G Turpin, JE Veitch, DR Weeks, NJ Wren, GI Younghusband.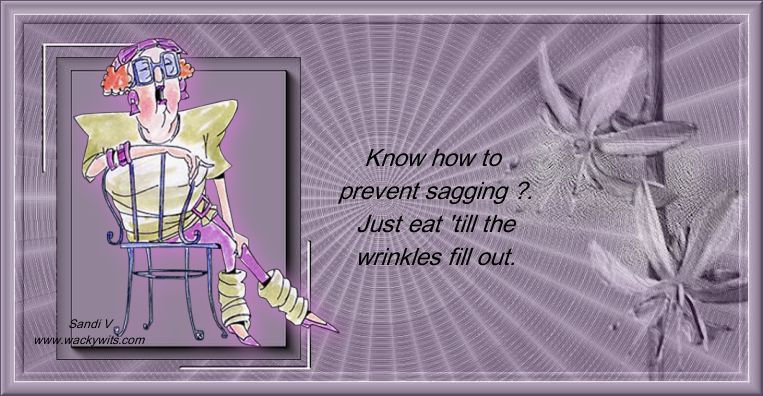 Back Go to page: 1 2 3 4 5 6 7 8 9 10 11 12 13 14 15 16 17 18 19 20 Forward